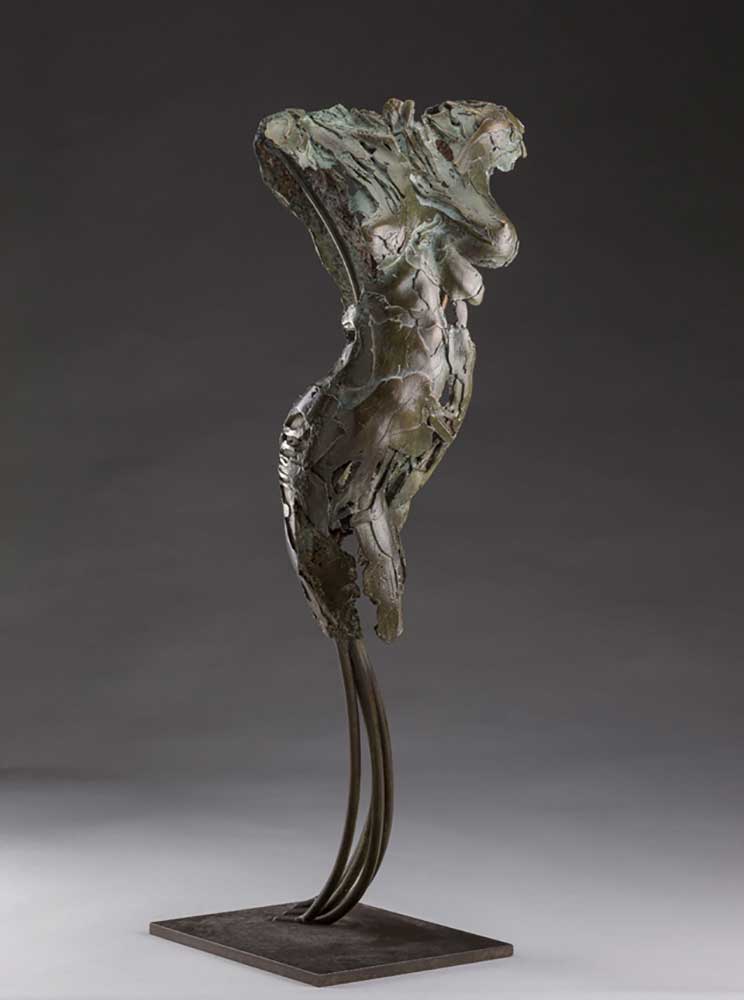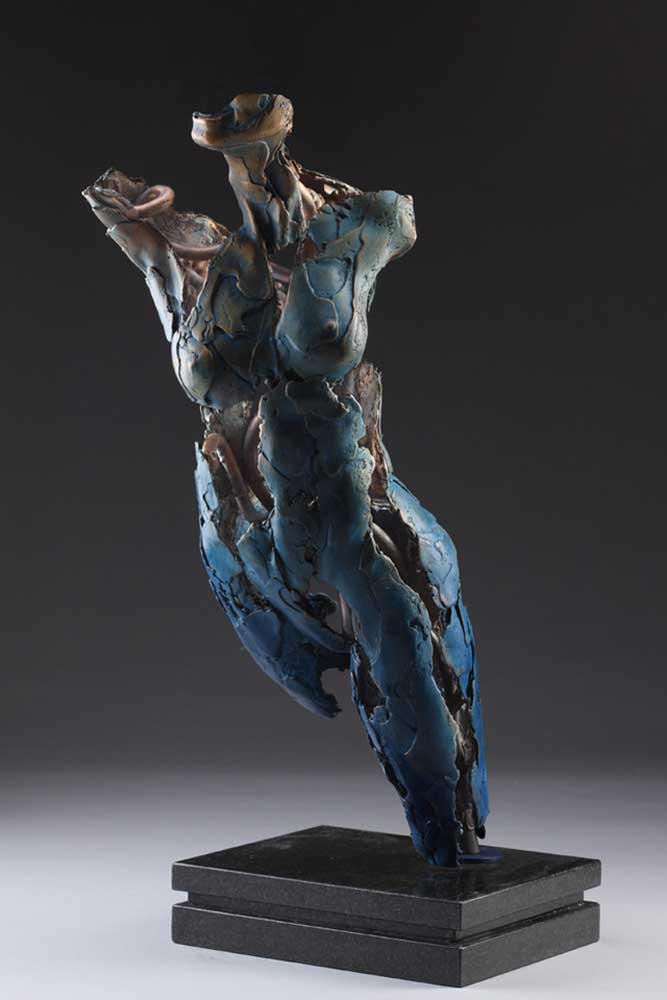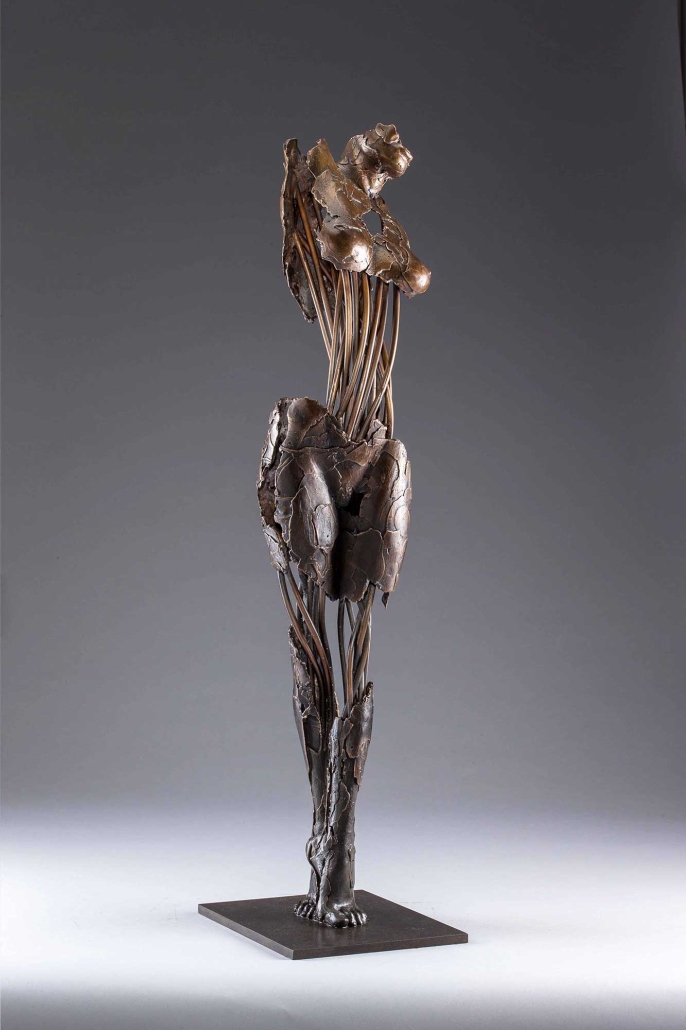 Blake Ward Artist Statement
Inspired by the grace and symmetry of classical realism, my works explores an irresistible alchemy of sensuality and sentiment, a form of beauty that is sometimes distorted by our demons, and other times enchanted by all that's pure within our souls. The three bodies of work that have evolved from this figurative heritage are what I believe to be timeless commentaries on our human condition.
Seeking to give my art purpose the Fragments Collection decry explosive remnants of war left over a century of our civilization's continuous cycle of conflict. While the ReThink series carries on the activist cause challenging the conservative values that lead us to discrimination and injustice.
The Spirits are collections of materializing bodies, crystalizing before us, expanding the classical figure by exposing an internal landscape within. The strength of our embodied humanity is encased in the multi-layered shell that stands as evidence of the many layers we create to both identify and to protect ourselves in the physical world. Within is an abstraction of the figure characterizing our spirit in a renewed relationship to the human form. These artworks insist that we look inside ourselves in order to open conscious communication between our exterior identity and the internal landscape of soul and self.
Biography
Blake Ward was born in Yellowknife in the North West Territories in Canada, then raised and educated in Edmonton, Alberta where he received his Bachelor of Fine Arts from the University of Alberta in 1979.
In 1985 Blake moved to Paris to study under Cyril Heck with whom he learned traditional techniques of modeling figurative sculpture. When the opportunity arose for Blake to move closer to both his foundry and marble quarry, he opened his current studio in Monte Carlo in 1991.
Blake's early work represents anatomically correct details in the clay sculptures of his live models, the first step in a "lost wax method" of production where the final rendition was either cast in bronze, or sculpted in marble.
Blake began his series of "de-sculpted" figures called "Fragments", followed by his "Rethink" collection, after completing his teaching fellowship at the University of Hanoi in 2003.
It was in Vietnam that Blake shaped his vision of the devastating, long-term effects that landmines have on people all over the world. The result was an infusion of his activism into this series of sculptures.
His latest series, The Spirits, have crossed over into the abstract. Blake creates provocative partial figures (Angels and Phantoms) that represent the expanding consciousness of our inner selves in relation to our outer changing world.
Blake's work has been exhibited in France, Italy, Germany, England, Singapore, India, Hong Kong, the United States and Canada.
In early 2013, Blake joined forces with conceptual artist, Boky. With the Ushabti Angels, their creative collaboration continues to develop and grow, making an occasional turn into the unexpected.
Blake and Boky's new works bring together technique, emotion and psychology, entwining bronze and life into this thing we call art.
Blake Ward CV
Nationality: Canadian
Education: 1975 History of Art, British Academy, Rome, Italy
1975-1979 Honours Degree in Sculpture, University of Alberta, Canada
1986-1989 Apprentice; figurative sculpture, Studio of Cyril Heck, Paris, France
Solo Exhibitions
2019 Elixir, Petley Jones Gallery, Vancouver BC, Canada
2019 Relevant Space, The Collectors' Gallery of Art, Calgary AB, Canada
2019 Somewhere Within, Hilton Asmus Contemporary, Chicago IL, USA
2018 The Space Within, Petley Jones Gallery, Vancouver BC, Canada – View
2016 Fragments, Saint John Art Center, Saint John NB, Canada
2016 Fragments, Sculptors Society of Canada, Toronto ON, Canada
2016 Inner Perceptions Outer Reflections, Hilton Asmus Contemporary, Chicago IL, USA – View
2016 Inner Perceptions Outer Reflections, The Front Gallery, Edmonton AB, Canada
2015 Depth of Perception, Petley Jones Gallery, Vancouver BC, Canada
2015 Depth of Perception, Articsók Gallery, Toronto ON, Canada
2015 Silent Metaphors, The Front Gallery, Edmonton AB, Canada
2014 The Silence of Stone, Rouge Gallery, Saskatoon SK, Canada
2014 Just Beneath the Surface, Articsók Gallery Toronto ON, Canada
2014 Figurative Alchemy, Continental Art Fair Gallery, Saint Jean Cap Ferrat, France
2013 The Space Between, Rouge Gallery, Saskatoon SK, Canada
2012 Blake Sculpture Angels, Comité National Monégasque des Arts Plastiques, Monaco
2012 The Burning Buddha, Performance, McIntyre Park, Edmonton AB, Canada
2012 Fragments, India International Center, New Delhi, India
2012 Blake Sculpture, Ian Tan Gallery, Hong Kong
2011 Blake Sculpture, Petley Jones Gallery, Vancouver BC, Canada
2011 Blake Sculpture, Winspear Center, Edmonton AB, Canada
2011 Blake Sculpture, Lougheed House, Calgary AB, Canada
2011 Blake Sculpture, Rouge Gallery, Saskatoon SK, Canada
2011 Fragments, Collectors Contemporary Gallery, Singapore – View
2011 Fragments, Bui Gallery, Hanoi, Vietnam
2010 Fragments, Meta House, Phnom Penh, Cambodia – View
2010 Fragments, Hotel de la Paix, Siem Reap, Cambodia
2010 The Burning Buddha, Video Installation, Meta House, Phnom Penh, Cambodia
2009 Re-Think, DLC Fine Art, New York, NY, USA
2009 The Figure, Rouge Gallery, Saskatoon, SK, Canada
2008 The Figure, Crystal Gallery, Fairmont Monte Carlo, Monaco
2008 Fragments, Saint Ethelburga's, London England, UK
2008 Fragments, Chelsea Arts Tower, New York NY, USA
2008 Fragments, Canada House Gallery, London England, UK
2007 Fragments, La Galleria, London England, UK
2007 Fragments, Cinema Verité, Monte Carlo, Monaco
2007 Fragments, The Smithfield Gallery, London England, UK
2007 Fragments, Haberdasher's Hall, London England, UK
2005 New Figures, Coutts & Co. Exhibition, Rue des Violettes, Monaco
2003 The Spirit and the Figure, Banque Gothard, Monte Carlo, Monaco – View
Collective Exhibitions
2020 Renaissance of the Heart, Petley Jones Gallery, Vancouver BC, Canada
2019 Now and Then, The Front Gallery, Edmonton AB, Canada
2019 Entre Nous, Galerie Inattandue, Colle-sur-Loup, France
2019 Masterpiece London Art Fair, Maison D'Art Gallery, London England, UK
2019 Beyond Realism, The Front Gallery, Edmonton AB, Canada – View
2018 SOFA Chicago 2018, Hilton Asmus Contemporary, Chicago IL, USA
2018 Art Aspen 2018Art Fair, Hilton Asmus Contemporary Aspen Colorado, USA
2018 Forum des Artist 2018, Affaires Culturelles Monaco, Monte Carlo, Monaco
2018 Go Figure, The Collectors' Gallery of Art, Calgary AB, Canada
2017 Excavating, The Front Gallery, Edmonton AB, Canada
2017 Fragments, Art Inspired by Conflict, Georgetown Festival, Penang, Malaysia
2017 Masterpiece London, Art Fair, Maison D'Art Gallery, London England, UK – View
2017 Figurative Art, Petley Jones Gallery, Vancouver BC, Canada
2017 New Arrivals, The Collectors' Gallery of Art, Calgary AB, Canada
2017 Disseminate, The Front Gallery, Edmonton AB, Canada
2017 Selected Works Old & New, Petley Jones Gallery, Vancouver BC, Canada
2016 Gender Hopes, Salle D' Exposition, Quai des Artist, Monte Carlo, Monaco
2016 Inspired by Antiquity, Hilton Asmus Contemporary, Chicago IL, USA
2016 Group Show, Petley Jones Gallery, Vancouver BC, Canada
2015 SSC 87th Annual Members Show, Queens Park, Toronto ON, Canada
2015 Stone It, Sculptors Society of Canada, Toronto ON, Canada
2015 Modenantiquaria Art Fair, Enrico Lumina Galleria, Moderna, Italy
2015 Sensuous, Sculptors Society of Canada, Toronto ON, Canada
2015 New Member's Show, Sculptors Society of Canada, Toronto ON, Canada
2015 Point Art, Art Fair, Maison d'Art Gallery, Grimaldi Forum, Monte Carlo, Monaco
2014 Richesse, Comité National Monégasque des Arts Plastiques, Monte Carlo, Monaco
2014 Being & Becoming, Duel Exhibition, The Front Gallery, Edmonton AB, Canada – View
2014 Ubuntu – A Tribute to Nelson Mandela, Articsók Gallery, Toronto ON, Canada
2014 Forum des Artist 2014, Affaires Culturelles Monaco, Monte Carlo, Monaco
2014 D'Art Contemporain, Gemluk Exposition, Monte Carlo, Monaco
2014 A Collective Human Experience, The Front Gallery, Edmonton AB, Canada
2014 In The Heart Suite, The Front Gallery, Edmonton AB, Canada
2014 Arte è Felicità, Group Exhibition, San Donato Milanese, Milano, Italy
2013 Continental Art Fair, Salle Neptune, Saint Jean Cap Ferrat, France
2013 Resonant Space, Ian Tan Gallery, Vancouver BC, Canada
2013 L'Eau A Loeuvre Comité National Monégasque des Arts Plastiques, Exposition,
Monte Carlo, Monaco
2013 4th Rencontre Artistique, Monaco Japan, UNESCO Comité, Monte Carlo, Monaco
2012 Fine Art Asia 2012, Art Fair, Ian Tan Gallery , Hong Kong
2012 Quand Fleurissent les Sculptures, Jardin Exotique AIAP Exhibition, MC, Monaco
2012 Blake Sculpture, Gallery De L'Omeau, Saint Tropez, France
2012 Blake Sculpture, Ian Tan Gallery, San Francisco Art Fair, San Francisco CA, USA
2012 UNESCO Comité Art Exhibition, Casa de Vacas, Madrid, Spain
2012 Silent Beauty, Group Exhibition Kehrig Fine, Art Edmonton AB, Canada
2012 6eme Rencontre Artistique Monaco Japan, Monte Carlo, Monaco
2012 World Art Expo, Kehrig Fine Art, Seborga, Italy
2011 Sculpture at the Jardin Exotique, UNESCO Comité, Monte Carlo, Monaco
2011 Peace, Love & Grooviness, Kehrig Fine Art, Seborga, Italy
2010 The Burning Buddha, Performance, Nuit Blanche, Toronto ON, Canada – View
2010 Ann Arbor Street Fair, Ann Arbor, Michigan, USA
2010 SOFA Santa Fe, Art Fair, Sante Fe, New Mexico, USA
2010 Monaco Art 2010, Art Fair, Grimaldi Forum, Monte Carlo, Monaco
2009 Une Celebration de l'Arte Canadienne, Domaine du Grand Cros, Carnoules, France
2009 New Motions of the Figure, ICO Gallery, New York, NY, USA
2009 Nude 2009, Lexington Art League, Lexington, Kentucky, USA
2008 Pointe Art, Art Fair, GAM Gallery, Monte Carlo, Monaco
2008 Portraying the Figure, Weatherburn Gallery, Naples FL, USA
2005 New Figures, Coutts & Co. Exhibition, Rue des Violettes, Monaco
2002 Adam and Eve, Hotel de Paris, Monte Carlo, Monaco
1999 The Figure, Open Studio Exhibition, Rue des Violettes, Monaco
1997 New Work, Gallerie d'Art, Gildo Pastor Centre, Rue du Gabian, Monaco
1994 Skulpturenpark, Herzogin Diane Altshausen, Württemburg, Deutschland
1993 Les Artistes, Galerie du Ruisseau, Paris, France
1993 Group Show, Marie Ferrer Gallery, Winter Park FL, USA
1993 Festival Des Arts, Beaulieu-Sur-Mer, France
1992 Figures, Monaco Fine Arts, Place du Casino, Monte Carlo, Monaco
1991 Liberty Street Studio, Liberty Street, Toronto ON, Canada
1990 101e Salon Des Artistes Indépendants, Grand Palais, Paris, France
1989 Les Refusès, Le Genie De La Bastille, Rue de Charonne, Paris, France
1984 SIGMA Sculptors In Greater Manchester Area, Old Hulme Hall Road, Manchester, England, UK
1982 Niagara Street Open Studio, Niagara Street Studios, Toronto ON, Canada
1979 Graduation Exhibition, University of Alberta Art Gallery, Edmonton AB, Canada
1975 The Canadian Arctic, Arctic Art Gallery, Yellowknife NWT, Canada
Museum Exhibitions
2010 Fragments, Prince of Wales Northern Heritage Centre, Yellowknife NWT, Canada – View
2007 Fragments, Canterbury Cathedral, Canterbury England, UK – View
1996 The Portrait, Museum of Menton, Menton, France
Public Installations
2013 Sharon Marble, Jardin Exotique, Monte Carlo, Monaco
2012 Maya Marble, Jardin Exotique, Monte Carlo, Monaco
2011 The Vestige, Jardin Exotique, Monaco
2008 Apple P-40, United Nations Association-USA, New York, NY, USA
2005 Faust, Grimaldi Forum, L' Association des Amis de l'Opera de Monte Carlo, Monaco
1998 The Messenger, Park de Fontvieille, Monaco
1995 The Bather, Monaco Heliport, Fontvieille, Monaco
Permanent Public Collections
2006 Virgin Mary, Ho Chi Minh City Fine Arts University, Saigon, Vietnam
2005 Breast Plate, Monte Carlo Casino, Opera House Monaco
2000 L'Eveil, PLace Du Moulins, Monte Carlo, Monaco
1995 1989: Emerging Continents, Fontvieille, Monaco
1994 Les Atlantes, Fontvieille, Monaco
Private Collections
2004 Collection of S.A.S le Prince Albert II de Monaco, Palais de Monaco, Monaco
2000 Collection of Jacques Ginepro, La Turbie, France
1989 Collection of Herb Alpert, A&M Records, Los Angeles CA, USA
1989 Collection of Jerry Moss, A&M Records, Los Angeles CA, USA
Teaching Experience
2006 Ho Chi Minh City Fine Arts University, Saigon, Vietnam
2003 Fine Arts University of Hanoi, Hanoi, Vietnam
Lectures & Workshops
2019 360 Silhouettes Sculptor's Association of Alberta, Edmonton AB, Canada
2017 360 Silhouettes, The Art Centre, Penang, Malaysia
2016 360 Silhouettes, Saint John Arts Centre, Saint John NB, Canada
2016 360 Silhouettes, Al Green Sculpture Studio and School, Toronto ON, Canada
2015 360 Silhouettes, Al Green Sculpture Studio and School, Toronto ON, Canada
2014 360 Silhouettes Sculptor's Association of Alberta, Edmonton AB, Canada
2014 360 Silhouettes, Articsók Gallery, Toronto ON, Canada
2012 Building Figurative Sculpture in Clay, Sculptor's Association of Alberta, Edmonton AB, Canada
Other Artists that might interest you