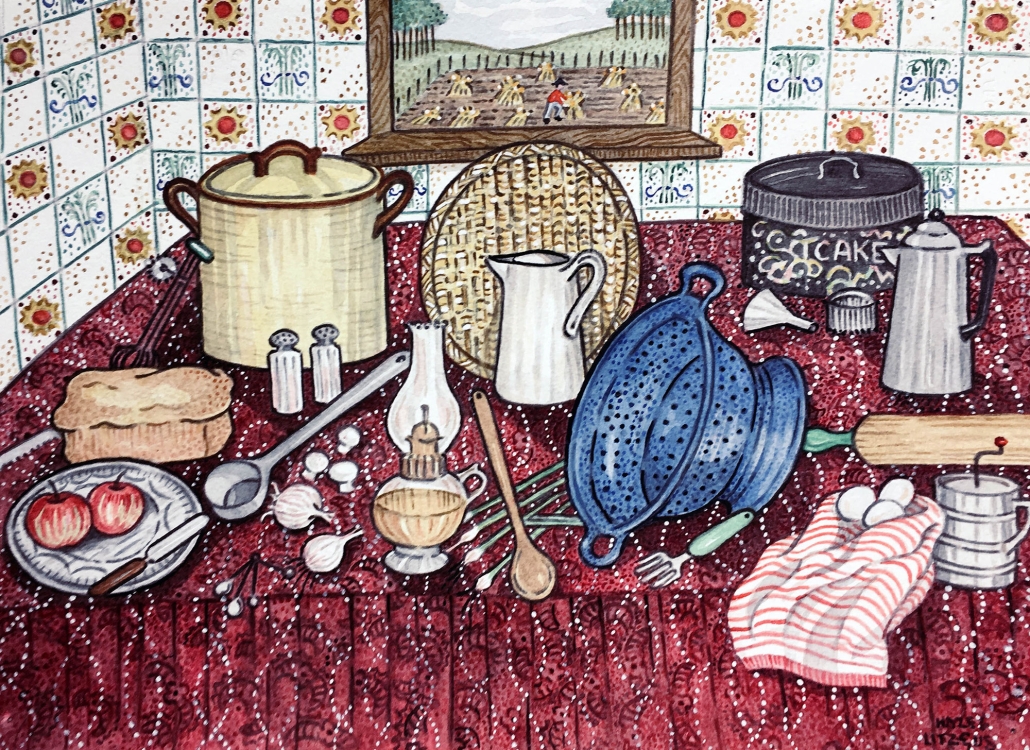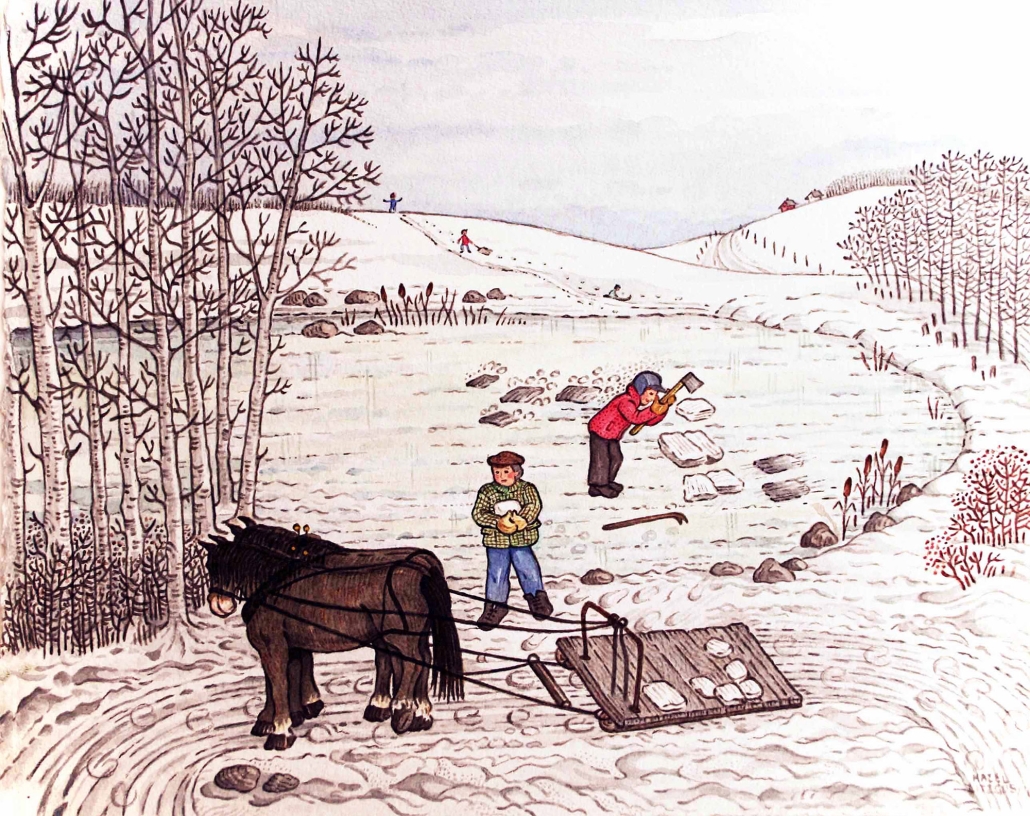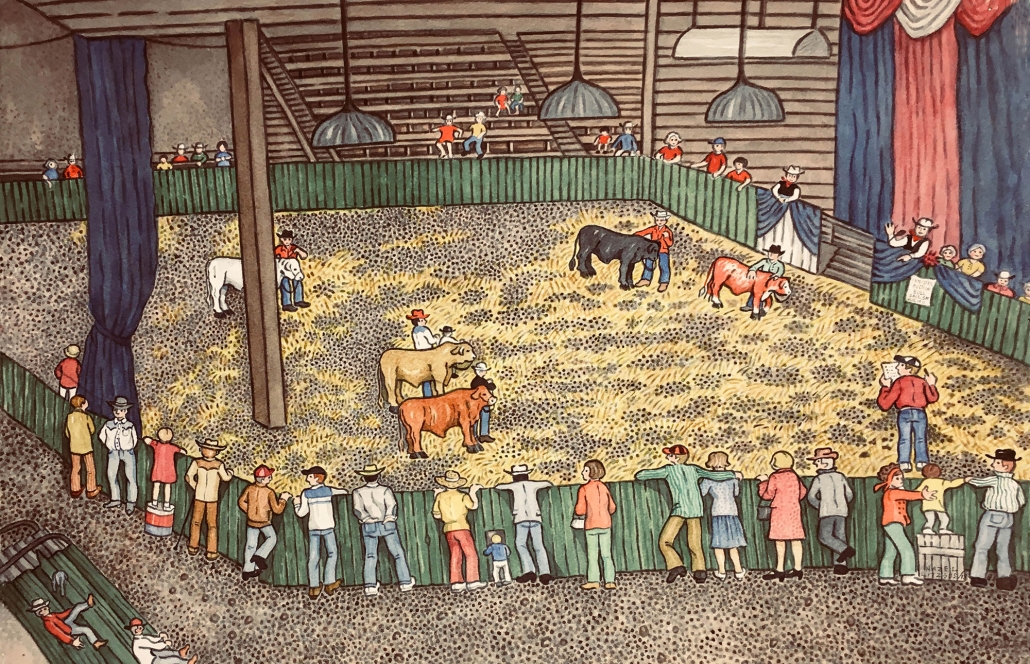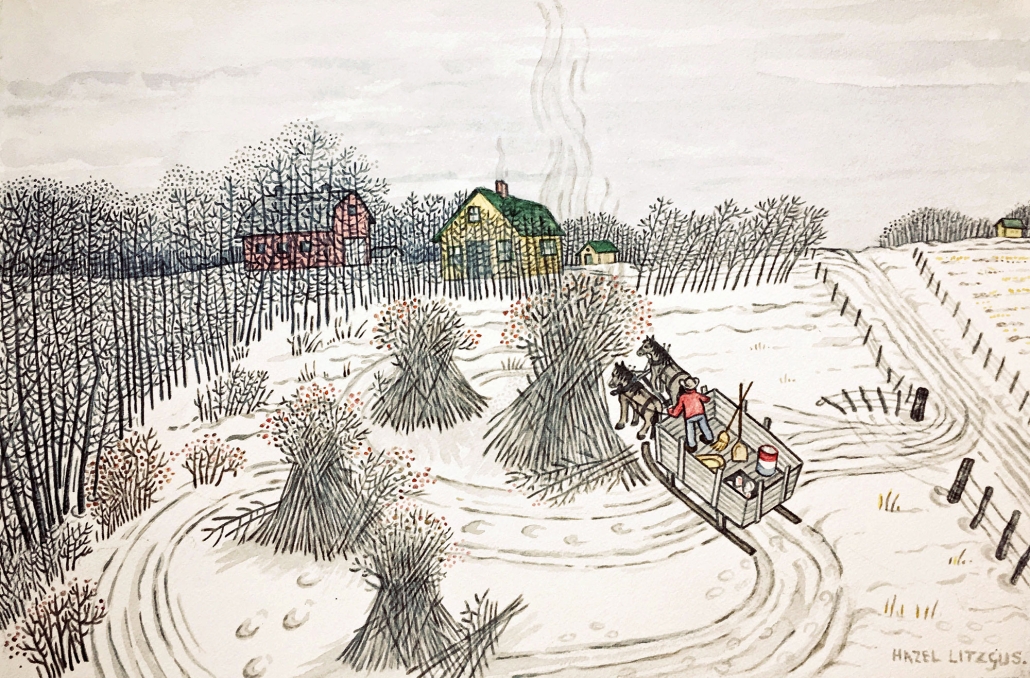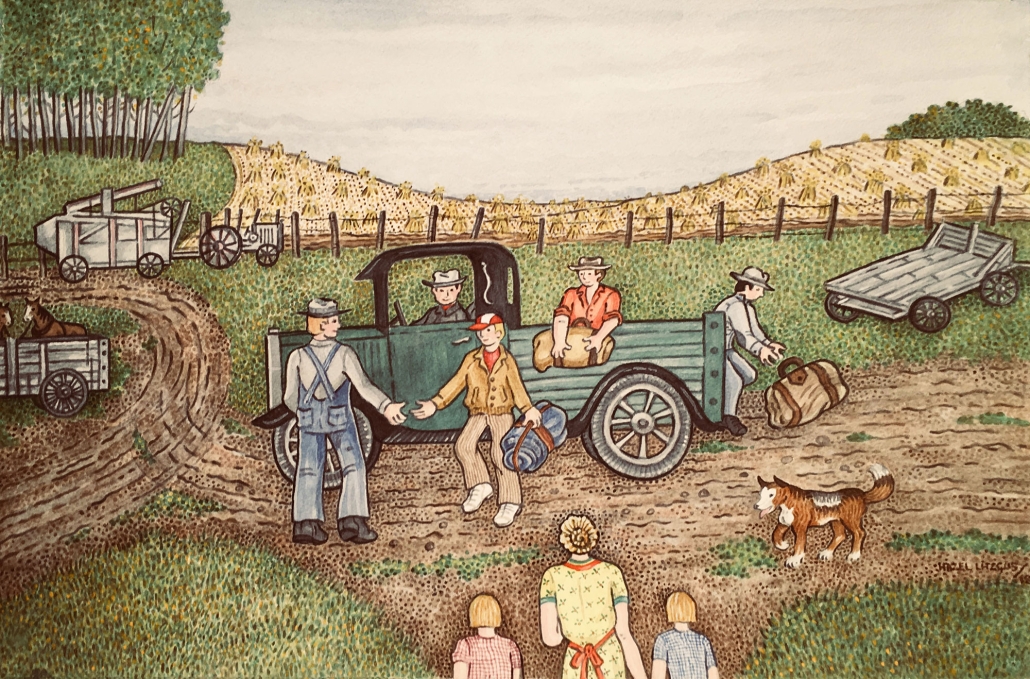 Biography
Hazel Litzgus continues to captivate the hearts of Albertans with her charming and nostalgic folk images of early Alberta life. Born on a farm near Lloydminister, Alberta, Hazel, through her paintings give us a glimpse of her early childhood and her many recollections of early rural and small town life on the Alberta Prairies.
Working in the unforgiving medium of watercolour, Hazel Litzgus narrates moments from her past in vivid detail with whimsy, in a naïve painting style. Whether it be the detailed wallpaper and patterned linoleum floor in a country farm house, or a school yard full of excited children playing various games, her art work is very reflective of her as a person. Hazel is a charming, soft spoken lady with a strong and determined character. She is full of life and stories and one feels right at ease as she tells of her experiences on the Prairies. Hazel's book, Where the Meadow Lark Sang was published in 2003 and received great attention. In a review by CM Magazine, University of Manitoba, wrote:
"In her use of bright colours and carefully detailed drawing, Litzgus created illustrations that are reminiscent of William Kurelek."
Hazel's work can be found in many private and public collections across Canada and has been exhibited across Canada and internationally, including The National Gallery of Canada, Ottawa; Canada House, London England; Paris, France; Brussels, Belgium; New York, USA; Tokyo, Japan; and The Glenbow Museum, Calgary.
Hazel's work from the Alberta Art Foundation Collection was part of a travelling exhibition visiting various small town communities across Alberta in 2013-14.
Exhibitions:
2023 New Works, The Collectors' Gallery of Art, Calgary, AB
2019 New Works, The Collectors' Gallery of Art, Calgary, AB
2014 New Works, The Collectors' Gallery of Art, Calgary, AB
2013-14 Memories of the Farm, a touring exhibition by the Alberta Foundation of the Arts
1989 A Second Look, Alberta Art Foundation, Triangle Gallery &
Beaver House Gallery, Edmonton , AB
The Primitives (Travelling Exhibition) Alberta Art Foundation
1988 Solo Show, Masters Gallery, Calgary, AB
1982 Bridging the Gap, Alberta Art Foundation, Edmonton, AB
1981 Beaver House Group – group exhibition, Edmonton, AB
1981 Masters Gallery, Calgary, AB
1979 Canadian Society of Painters in Watercolour, Macdonald Gallery, ON
1978 Two Person Show, College Gallery, Mount Royal College, Calgary, AB
1977 Shell Canada Collection, Shell Canada, Calgary, AB
1977 Watercolour Society Show, Glenbow Museum, Calgary, AB
1975 Alberta Scape, Masters Gallery, Calgary, AB
1973 Primitives Canada, Burnaby Art Gallery, B.C. (auspices of National Gallery,
Ottawa, A People's Art, National Gallery, Ottawa)
1972 Two Person Show, Canadian Art Gallery, Calgary, AB
1971 Seven Alberta Artists, Allied Arts Centre, Calgary, AB
1971 Two Person Show, Canadian Art Galleries, Calgary, AB
1970 Solo Exhibition, Allied Arts Centre, Calgary, AB
1966 Canadian Society of Painters in Watercolours, drawings and prints
National Gallery, Ottawa
Videos and Films:
Caribou College, A Sense of Place, The Canadian Artist and the
Landscape of Western Canada
Department of Education, Reference Film, Province of Alberta
D. Chittick – Dionysian Productions
Books and Publications:
A People's Art, National Gallery, Canada, University of Toronto Press
J. Russell Harper
Prairie Women – Images in American and Canadian Fiction (hard cover)
Carol Fairbanks, Yale University Press, U.S.A., New Haven and London
Artists of Alberta (hard cover Suzanne Devonshire Baker
University of Alberta Press
1989-90 Included in the "Domtar" Calendar for 1990 "Domtar Fine Paper Agenda"
1989 Department of Culature and Multiculturalism, Reference Book of Alberta Artists
2005 Where the Meadowlark Sang, published by Fifth House
Subject Articles:
Calgary Herald, Nancy Tousley, April 16, 1986
Western Living, Anne Suche, August, 1985
Calgary Mirror, Janice Friis, Sept. 29, 1981
Work discussed on the BBC, London, Eng. By British Art Critic Robert MacDonald, 1975
The Star Phoenix, July, 2003
Avenue Magazine, Sept. 2003
Lloydminster Meridian, July, 2003
Globe & Mail, July 2003
Alberta Living, Jan, 2004
Other Artists that might interest you