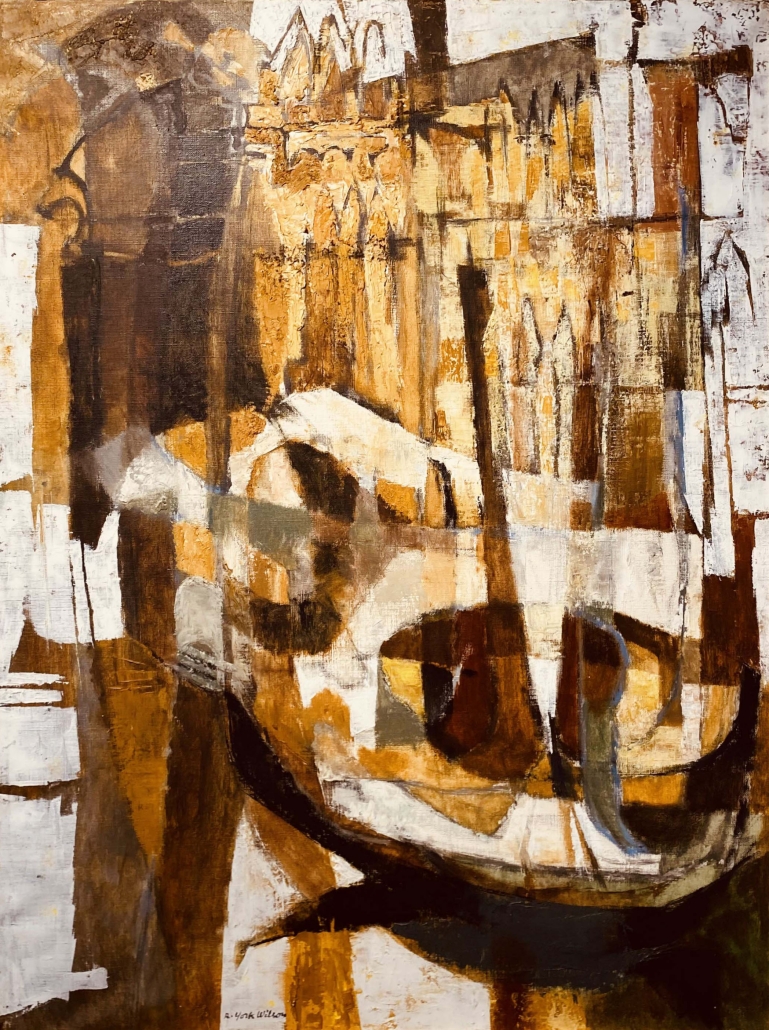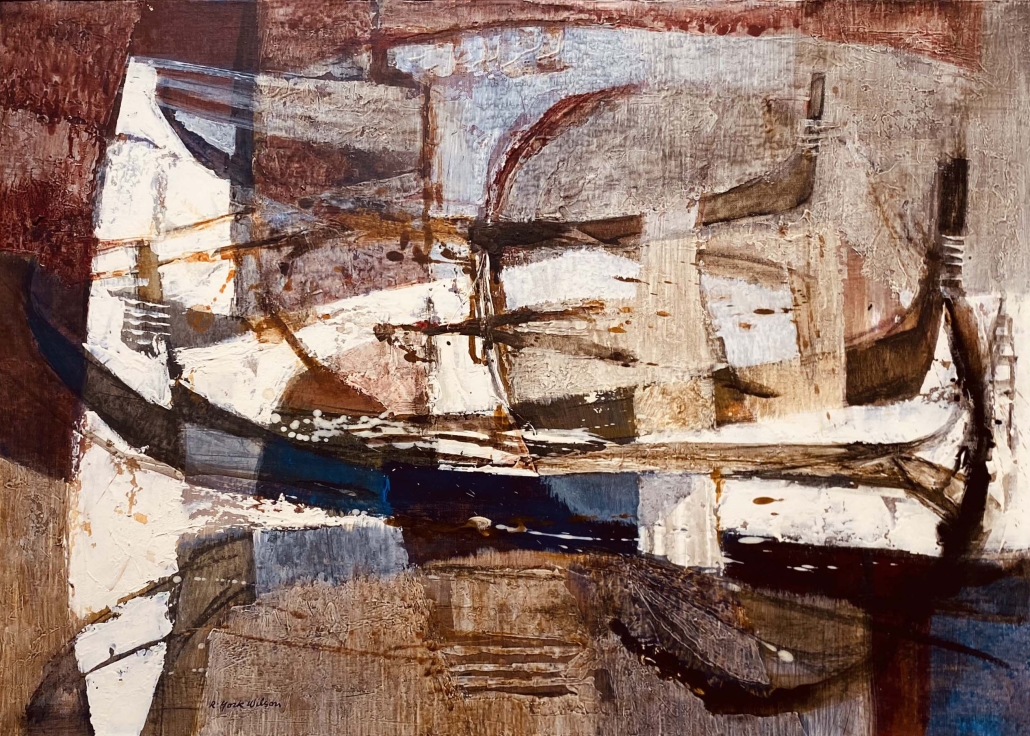 Ronald York Wilson was a painter, commercial artist and muralist who was born in Toronto, Ontario in 1907. He also had a home in San Miguel de Allende, Mexico and a studio in New York City. His mediums were oil, acrylic, watercolor, ink, collage, chalk, pencil, lithograph, charcoal and much more. His subjects were pure abstract, seascapes, landscapes, nudes, figures, portraits, historical, and social commentary.
He studied at the Central Technical School in Toronto with Fred Challener, Peter Haworth and Alfred Howell and studied briefly at the Ontario College of Art and the Detroit Institute of Arts,. Wilson worked as a commercial artist before becoming a full-time painter in 1939. His first job was at Brigden's Engraving House (1926) where he was further influenced by the artists Charles Comfort and Will Ogilvie. He moved from there to Sampson-Matthews, where he worked with Franklin Carmichael and A.J. Casson, both members of the Group of Seven.
Wilson achieved a considerable reputation for the mural commissions he undertook beginning in the mid 1940's. He was known for his commissioned murals which can be seen at McGill University's library, Montreal; The Imperial Oil Building, Toronto; the O'Keefe Centre for the Performing Arts (now known as Meridian Hall), Toronto; Bell Canada, Toronto; the Ontario government at Queen's Park, Toronto; and Carleton University, Ottawa.
He was a member of the Royal Canadian Academy of Arts, the Ontario Society of Artists and the Canadian Group of Painters. His work has been exhibited internationally since 1939.
After 1949 he left his commercial career to pursue art full time adopting a nomadic way of life that took him and his wife to Europe (including France, Spain, Italy, Belgium, England, Greece, Canary Islands), the US (Including New York, California, and Hawaii), the Middle and Far East (including Japan, Taiwan, Hong Kong, Malaysia, Singapore, , Indonesia, Bali, Cambodia, Thailand, Sri Lanka, India, Afghanistan, Iran, Iraq, Egypt, Lebanon, Syria, Jordan, Israel, Cyprus) across Canada including the Artic, Guatemala, as well as a long-term stay in Mexico, interspersed with brief trips home to Toronto . They would return permanently to Toronto in 1982 until Wilson's death in 1984.
Communications theorist Marshall McLuhan wrote of Wilson: "York Wilson is a key figure in relating us to both the old visual world of realism and to the new resonating world of touch and echo and pattern" and that "there is a rich story of experiment and discovery and dialogue that emerged in an art that is calm, serious, and splendid."
He was a member of the Ontario Society of Artists from 1942 and its President in 1946; and a member and President (1967) of The Canadian Group of Painters. He was elected to the Royal Canadian Academy in 1948. He was also a member of the Arts and Letters Club of Toronto.
He exhibited his work continuously with the above organizations, starting in 1931 with the RCA. During his life, York Wilson had over 60 solo shows and over 500 group shows.
His honors include a Lifetime Achievement Award from The Ontario Society of Artists; and the Centennial Medal of Canada (1967). He also received the J. W. L. Forster Award twice: once in 1945 and again in 1950.
Collections
Agnes Etherington Art Centre, Kingston, ON
Alliance Francaise, Toronto, ON
The Art Gallery of Alberta, Edmonton, AB
Art Gallery of Algoma, Sault Ste Marie, ON
The Art Gallery of Hamilton, ON
The Art Gallery of Ontario, Toronto, ON
The Art Gallery of Nova Scotia,
The Art Gallery of Peterborough, ON
Arts and Letters Club of Toronto Foundation, Toronto, ON
Beaverbrook Art Gallery, St. John, NB
Bell Canada, Toronto (1965), ON
Bermudiana Foundation of Canada, Toronto, Ontario
Brock University, St. Catharines, ON
Canadian Friends of the College of the Bahamas, Toronto, ON
Carleton University, Ottawa (1970) ON
Central Hospital, Toronto (1970), ON
Dalhousie University, Halifax, N.S.
Dance Collection Danse, Toronto, ON
Dow Corning Ltd., Toronto (1965) ON
General Hospital, Thunder Bay (1965) ON
The Georgian Bay Treatment Centre, Meaford, ON
The Georgina Art Centre and Gallery, Sutton, ON
Grande Prairie Regional College, Grande Prairie, AB
The Imperial Oil Building, Toronto (1957) ON
Japanese Canadian Cultural Centre of Toronto, ON
Korean Canadian Cultural Centre of Metropolitan Toronto, ON
The Lindsay Gallery, Lindsay, Ontario
London Abused Women's Centre, London, ON
Lord Thompson of Fleet, for his office in Timmins (1940) ON
McGill University, Montreal (1954) Que.
McMaster Museum of Art, Hamilton, ON
The McMichael Collection, Kleinberg, ON
The Mendel Art Gallery, Sask.
Museum London, London, ON
Musee d'Art Contemporain, Montreal, Que.
Musee d'Art Moderne, Paris, France
Museo del Arte Moderno, Mexico City, Mexico
Museo Eduardo Westerdahl, Spain
The National Gallery of Canada, Ottawa, ON
Oakville Hospital Foundation, Oakville, ON
The O'Keefe Centre, Toronto (1959) ON
Ontario Government Complex (1968), ON
Ottawa Art Gallery, Ottawa, ON
Peel Art Gallery, Museum and Archives, Brampton, ON
The Robert McLaughlin Gallery, Oshawa, ON
The Salvation Army Headquarters, Toronto (1955) ON
Simpson-Sears Tapestry, Toronto (1973) ON
SONY Centre for the Performing Arts, Toronto, ON
Tanaka Museum, Japan
Town of Halton Hills, Helson Gallery, Halton Hills, ON
Ufffizi Gallery, Italy
University of Victoria, Victoria, BC
Varley Art Gallery of Markham, Markham, ON
The Winnipeg Art Gallery, Winnipeg, Manitoba
The Women's Art Association of Canada, Toronto, ON
Vancouver Art Gallery, Vancouver, BC
York University, Toronto, ON
Selected Solo Shows
World's Fair, New York (1939)
Hart House, University of Toronto, Toronto ON, (1944)
Metropolitan Museum of Art, New York (1947)
The Excelsior, Mexico City, Mexico (1949)
The Carenegie International, Pittsburgh USA (1952)
Museo Municipal de Santa Cruz, Tenerife, Spain (1952)
National Gallery of Canada, Ottawa (Canadian Biennials 1957, 1961, 1963)
Geneva, Switzerland (1957)
Rome, Italy (1958)
L'Art au Canada Bordeaux, France (1962)
Bienal do Museo de Arte Moderna Sao Paolo (1963)
London, England (1963)
Main Gallery Musee Galliera, Paris (1963)
Confrontation Salon International Dijon, France (1964)
Rose Fried Gallery, New York (1968)
Palacio Bellas Artes, Mexico (1969)
Birla Museum, India (1970)
Musee Beaux Arts, Le Havre (1970)
Travelling retrospective exhibitions across Canada in the 1970s
George Pompidou Centre, Paris France (1978)
Uffizi Gallery, Florence, Italy, ( 1981)
The Robert Mclaughlin Gallery, Oshawa, ON. ( 2016)
Other Artists that might interest you