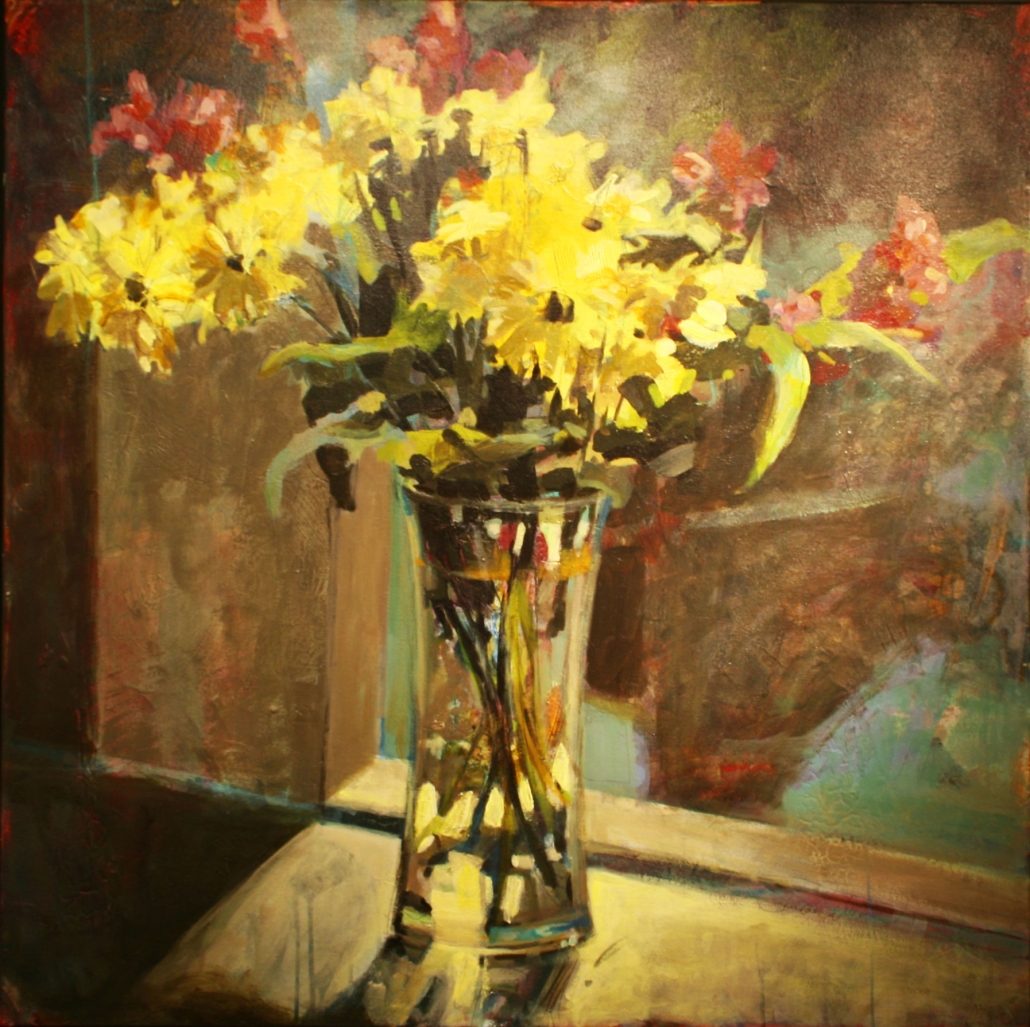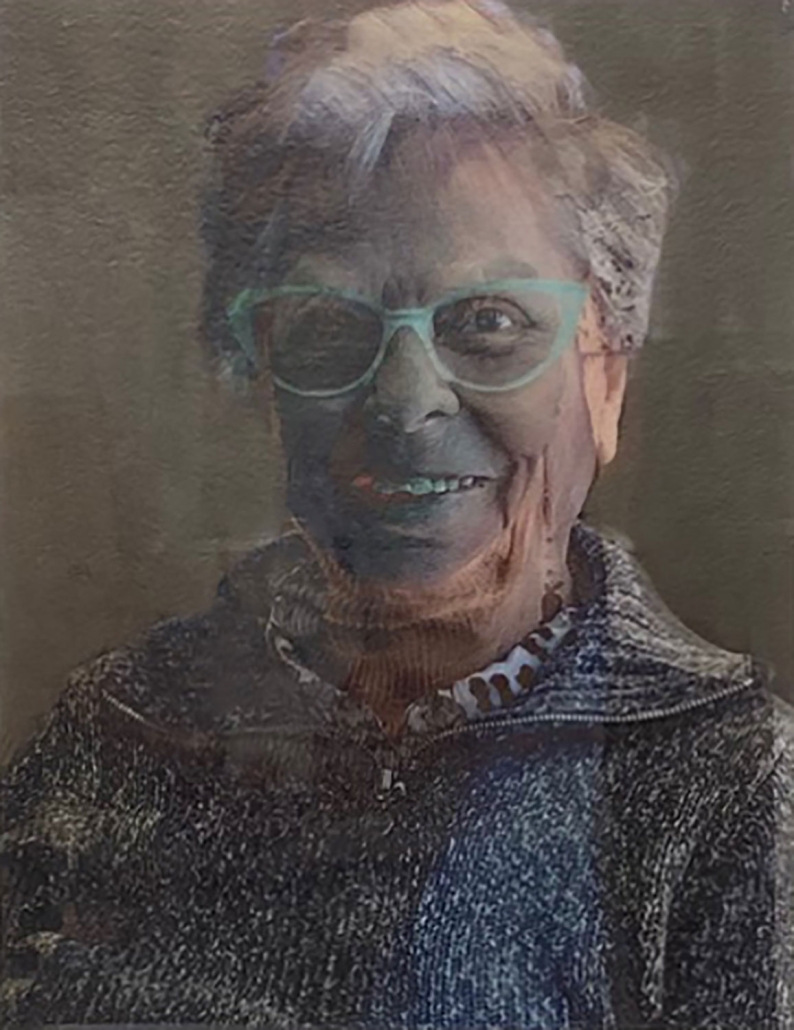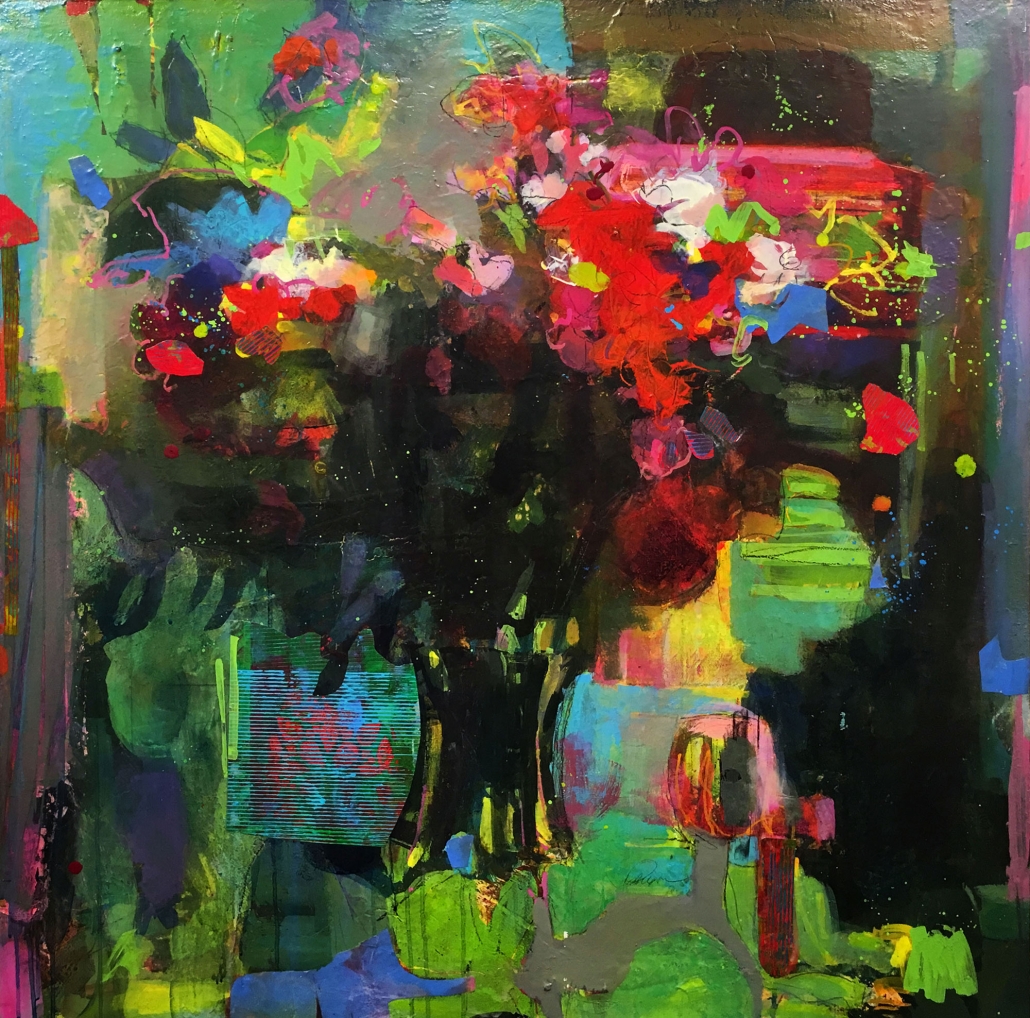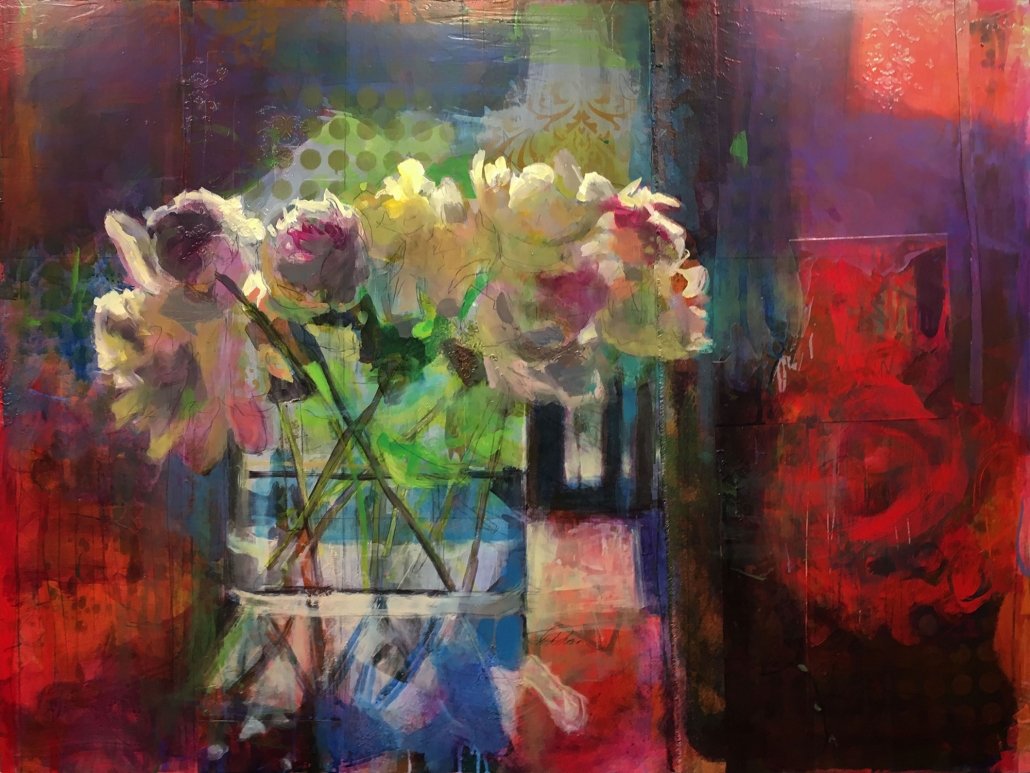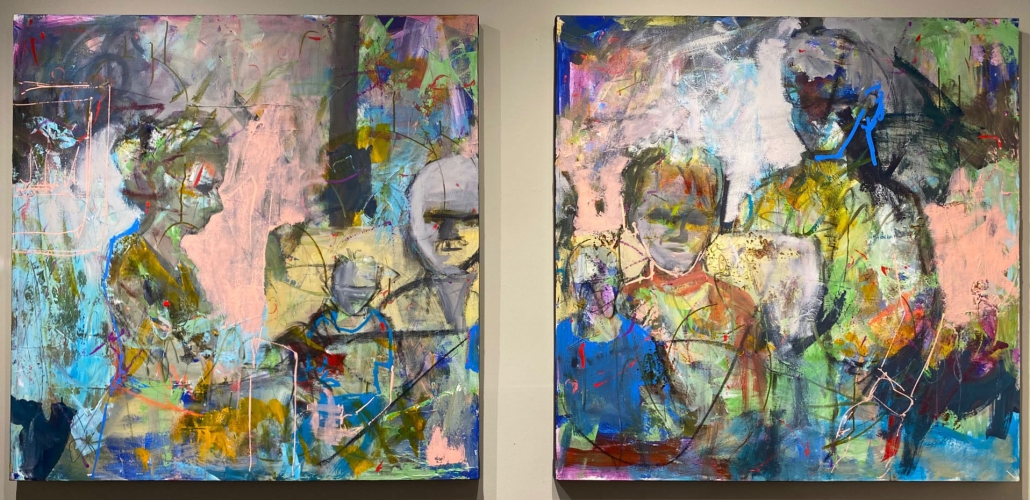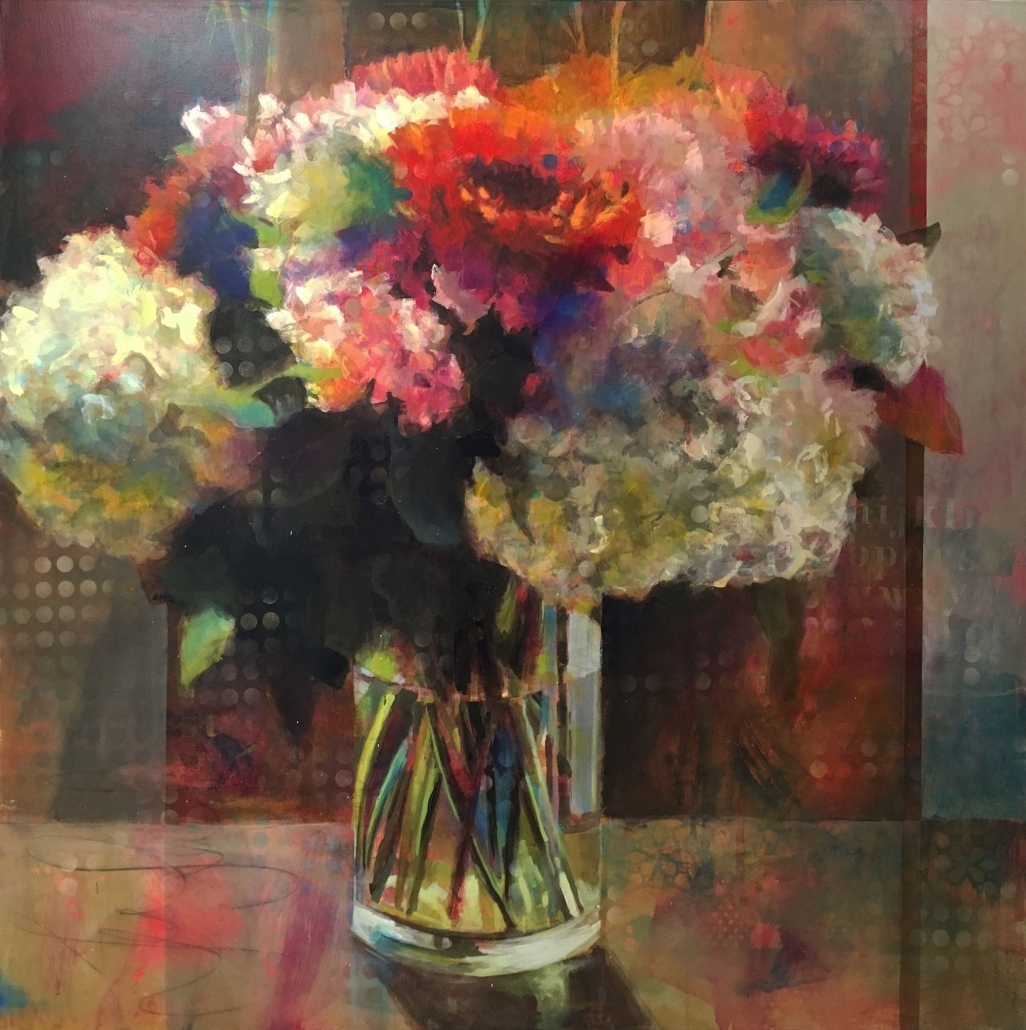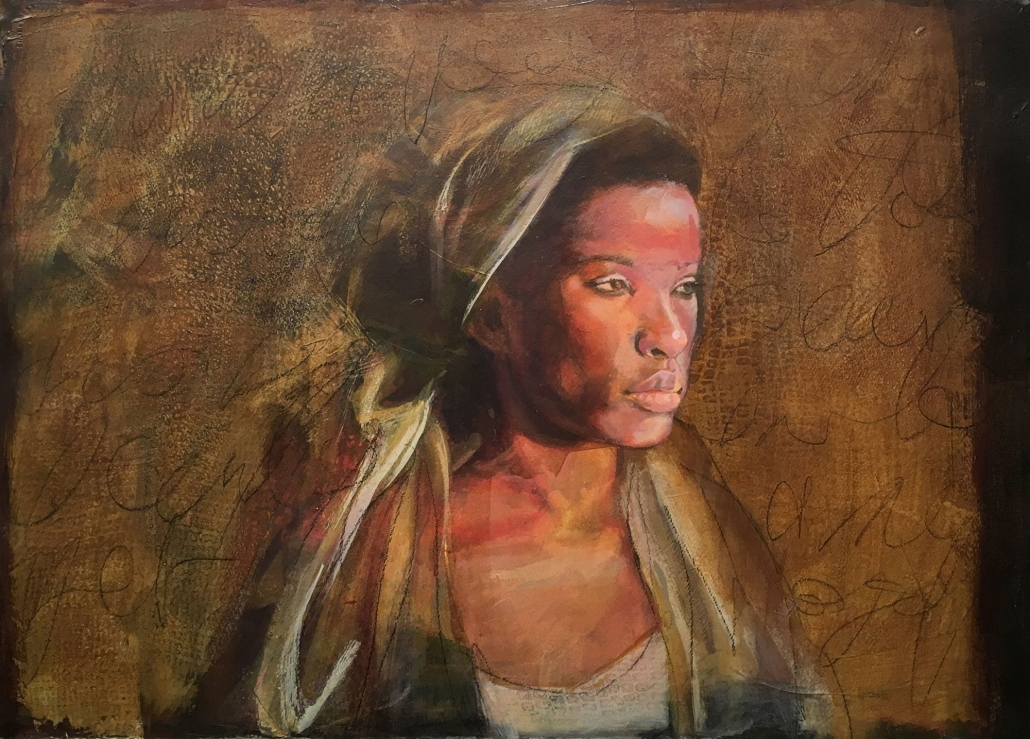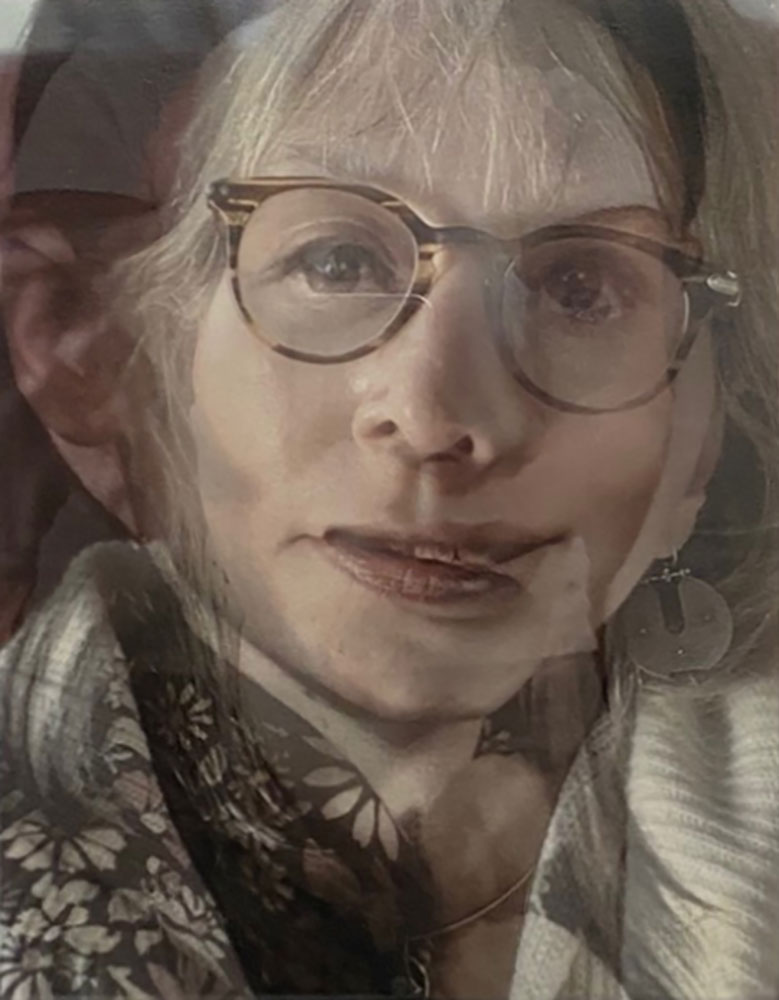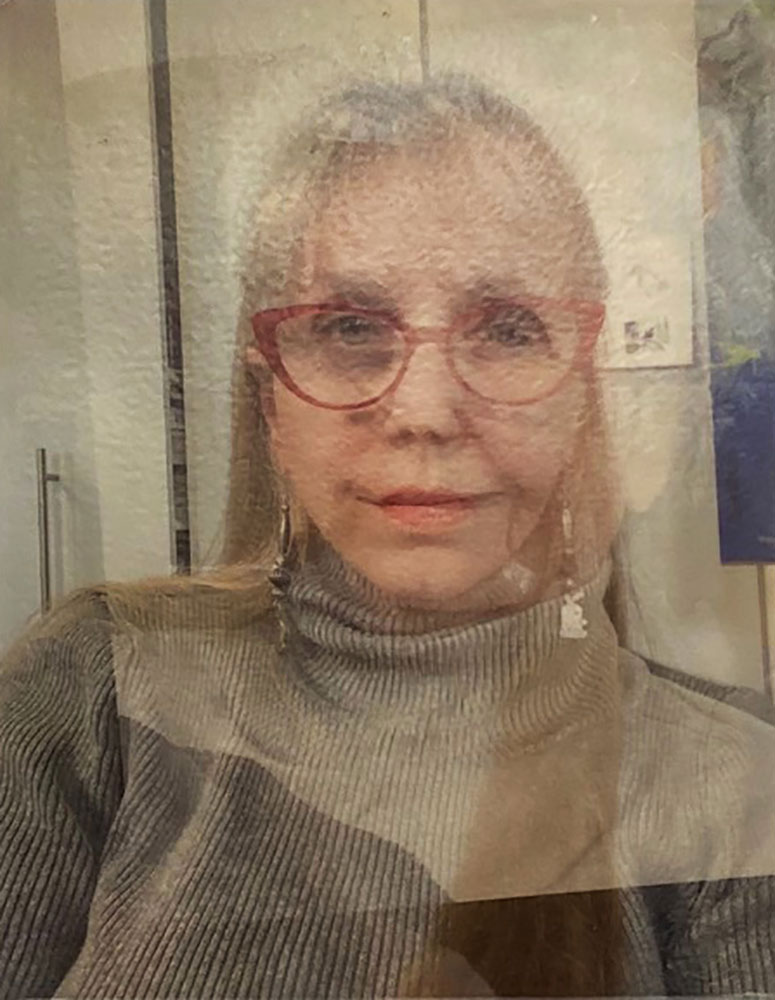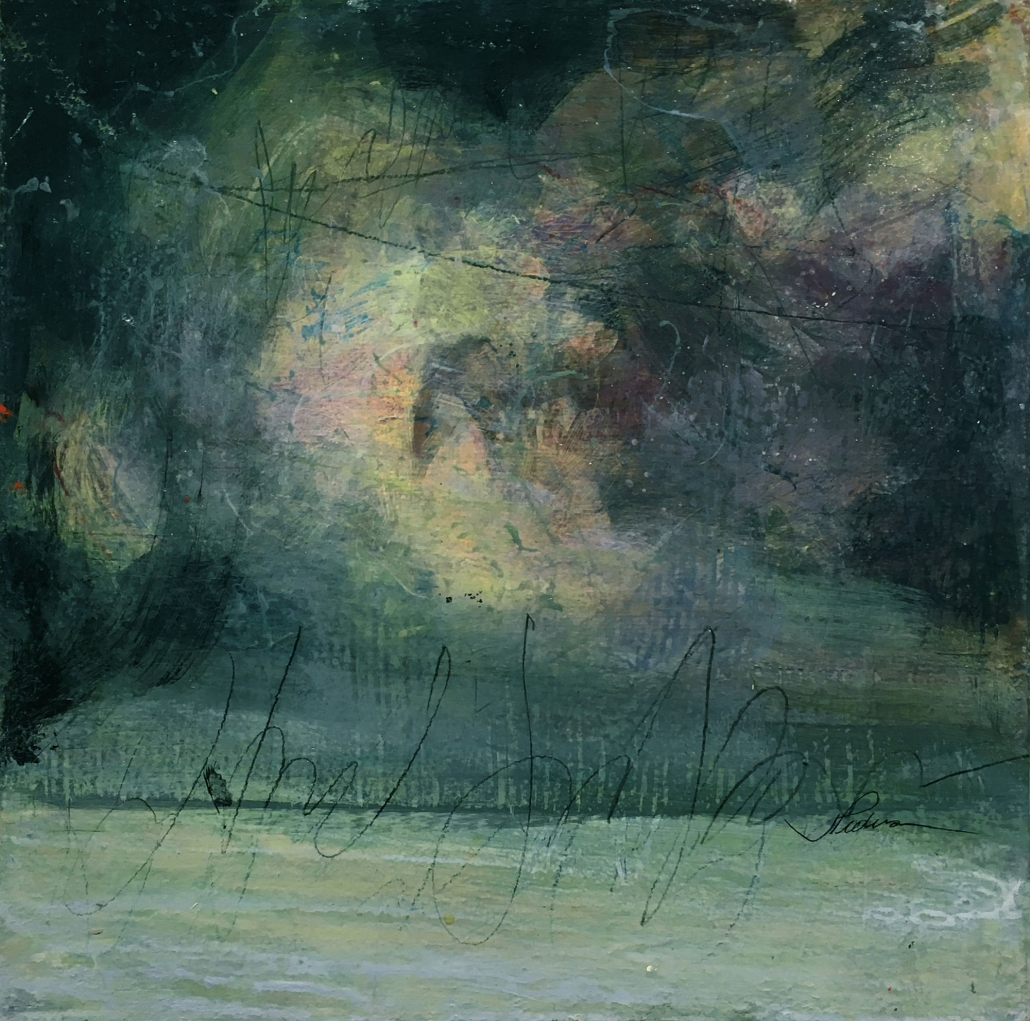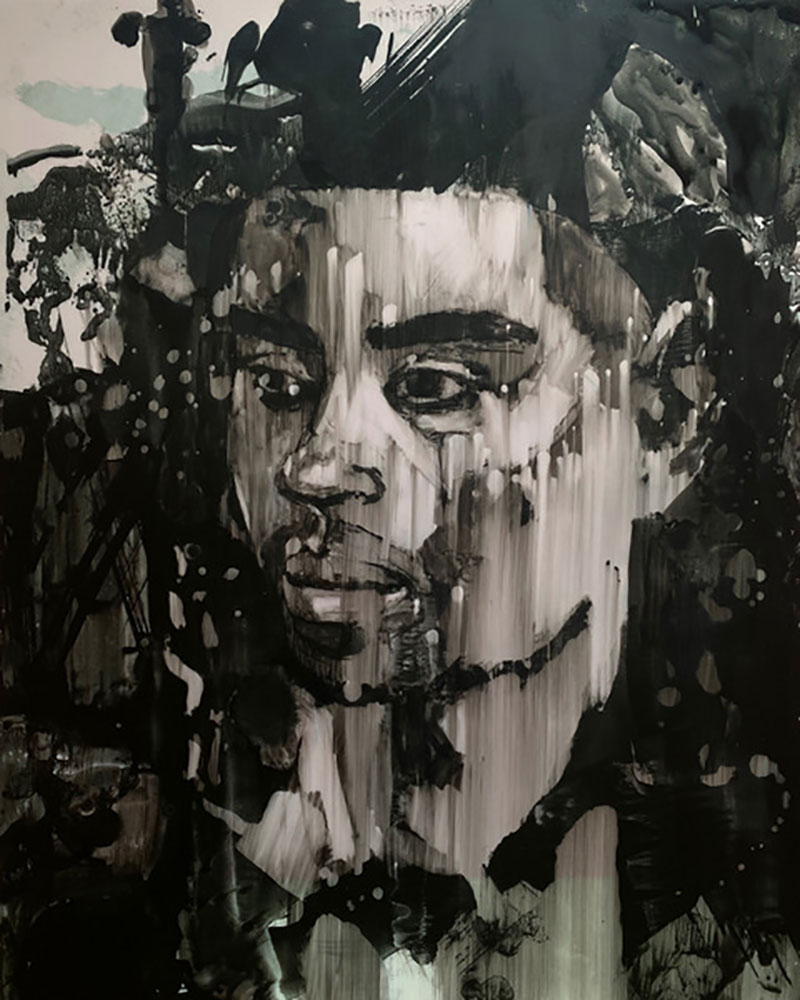 Artist Statement
It is my desire to employ different materials, scale and processes in my work. This is the evidence of an artist who is always taking risks searching for that connection, that one "true moment between myself, the subject and you, the viewer with the openness, immediacy and sensitivity of my hand while simultaneously rendering a likeness which creates complex fluid personages that reflect the emotional and psychological complexity common to each of us – flawed, compassionate, vulnerable and that which makes us most human.
Jean Pederson AWS NWS CSPWC SFCA Bio
Jean is the author of "Expressive Portraits: Creative Methods for Painting People". She has been painting for over twenty years, balancing her strong teaching abilities, and writing with her continuing aspiration to convey her ideas in visual form.
Jean's traditional practice includes referential imagery of people, still life, landscape and abstraction. The layering of a variety of media offers Jean an assortment of possibilities within her work; quality of edge, line and texture all play a role within her imagery. Although Pederson is well known for her mastery of watercolours, mixed media has become an important venue for her creative expression.
The portraits in her paintings are based on people who she has met or impacted her. These subjects in her paintings often reflect different walks of life as well as diverse cultural and religious backgrounds. We are hard pressed to find a period in time when the human figure wasn't represented. Finding a way to express the human figure in a language that reflects the twenty-first century is perhaps the greatest challenge in figurative work today.
Jean has work placed in the Royal Collection in Winsor England, and has been honored with numerous National and International awards over the years. In 2005 Jean was the first recipient of the Federation of Canadian Artists Early Achievement Award, granted for her many honors, awards, international writing to promote art education, and consistent, exceptional painting.
Jean Pederson has exhibited her work Internationally in China, Mexico, and across Europe, the US, and Canada.
She has completed a body of work for Public Exhibitions dealing with the changes that have occurred within the social fabric of Rural Canada. This body of work is explored outside Jean's traditional practices, encompassing fragments from the past and present. Parts of the family farm, old receipts, fragments of the homestead (pieces of linoleum, doors, moldings, shingles), and photographs were used in an attempt to tell the story of the ever-changing landscape and social fabric of the prairies.
This work is as eclectic as the people who made up the rural society. Jean has included paintings, collage (using the old documents to symbolize all that is left of the family farm), Polaroid transfers of old and new photographs, and installations using the pieces of the old house to tell this story. The fragment represents all that is left from 100 years of farming in my family. Farm Fragments travelled to a variety of public galleries in Canada.
SELECTED GROUP EXHIBITIONS
2021 – Leighton Art Centre, Of a Certain Age two person show, Millarville, AB
2021 – G9 (Group 9) The Collectors' Gallery of Art, Calgary, AB
2021 – New Arrivals, The Collectors' Gallery of Art, Calgary, AB
2020 – Small Painting Show, The Collectors' Gallery of Art, Calgary, AB
2018 – New Arrivals, The Collectors' Gallery of Art, Calgary, AB
2018 – Small Painting Show, The Collectors' Gallery of Art, Calgary, AB
2018 – Go Figure, The Collectors' Gallery of Art, Calgary, AB
2018 – New Arrivals, The Collectors' Gallery of Art, Calgary, AB
2018 – Small Painting Show, The Collectors' Gallery of Art, Calgary, AB
2018 – New Arrivals, The Collectors' Gallery of Art, Calgary, AB
2017 – G9 (Group 9) The Collectors' Gallery of Art, Calgary, AB
2013 – 12, 11,10, 09, 08, 07, 06, 04, 03, 02, 01, 00- CSPWC Open Water Exhibition, Toronto, ON
2012 – Group Exhibition, F.C.A. Gallery, Vancouver, B.C.
2012 – Pennsylvania Watercolor Society State Museum of Pennsylvania, Harrisburg, PA
2012 – China International Invitational Water Media Exhibition, Jiangsu Water Color Institute
2011 – C.W.A. National Exhibition, Gallery Concord, Concord, CA
2010 – C.I.P.A. International Portrait Exhibition, Mount Royal University, Calgary, AB
2010 – China International Invitational Water Media Exhibition, Jiangsu Water Color Institute
2010 – T.W.S.A. International Exhibition, Kenosha Public Museum, WI
2009 – Drawing Project 2009, Annette Howell Turner Center for the Arts, Valdosta, GA
2008 – Triangle Gallery Artist's Circle Exhibition, Calgary, AB
2008 – 06, 05, 01 – A.W.S. 134th International Exhibition, Salmagundi Club, N.Y., N.Y.
2008 – C.I.P.A. International Portrait Exhibition, Calgary, AB
2008 – 07 – China International Invitational Water Media Exhibition, Jiangsu Water Color Institute
2007 – 05, 03,02,01,00 – C.W.S. National Exhibition, Academy of Art University Gallery, San Francisco
2007 – 06, 03 – N.W.W.S. 63rd Exhibition, Artists Gallery, Seattle, WA
2006 – CIPA National Open Exhibition, Red Deer Museum, Red Deer, AB
2006 – T.W.S.A. 30th International Exhibition, Elmhurst Art Museum, Elmhurst, IL
2005 – 04, 03 – Painting on the Edge, Federation Gallery, Vancouver, BC
2004 – CIPA National Exhibition, Calgary, AB
2004 – C.S.P.W.C. 80th Anniversary Traveling Exhibition
2002 – 2003 International Watercolour Exhibition, National Watercolour Museum, Mexico City, Mexico
2002 – Search for the Human Essence, Triangle Gallery, Calgary, AB
2001 – Royal Collection Exhibition, traveling exhibition: Canada House, London, England: O'Connor Gallery, Toronto, ON: Arts & Letters Club, Toronto, ON
2000 – A Brush With History: The first 75 Years, Art Gallery of Mississauga, Mississauga, Ontario
2000 – Your World In The Year 2000, International Exhibition, Winsor and Newton, traveling exhibition:
New York (United Nations): London, England: Stockholm, Sweden
1999 – 2000 Mexico/ Canadian Watercolour Exhibition, Mexico
1996 – 2013 The Alicat Gallery, Bragg Creek, AB
1996 – 2000 The Artnest Gallery, Calgary, AB
SOLO EXHIBITIONS
2018 – The Collectors' Gallery of Art, Calgary, AB
2011 – Centre 64 Public Gallery, Kimberley, B.C.
2011 – Estevan Art Gallery and Museum, Estevanm Saskatchewan
2010 – Red Deer District Museum, Red Deer, AB
2010 – The Avens Gallery, Canmore, AB
2009 – Pynlogs Public Gallery, Invermere, B.C.
2007 – Birchwood Gallery, Yellowknife, Northwest Territories
2005 – LEIGHTON CENTRE, Calgary, AB
2002 – Birchwood Gallery, Yellowknife, Northwest Territories
1998 – Unisource Gallery, Calgary, AB
PUBLIC COLLECTIONS
The Royal Collection, London, England
Laramie Community College, Cheyenne, Wyoming
MOCA (Triangle Gallery), Calgary, Alberta
Bow Valley Artist Garden, Calgary, Alberta
Selected Corporate and Private Collections
Covenant Real Estate, Alberta
Fairchild Resources, Alberta
Kinderhook Resources – Alberta
The Mustard Seed – Alberta
A.G.R.A. Collection – Alberta
Phillips Bros. – Alberta
Diploma Collection, C.S.P.W.C. – Ontario
Doris McCarthy – Ontario
Agrium Collection – Alberta
AFFILIATIONS
Sponsored by Winsor and Newton
American Watercolor Society (AWS Signature Member)
Canadian Society of Painters in Watercolour (C.S.P.W.C.)
Alberta Society of Artists (A.S.A. Signature Member)
Federation of Canadian Artists (SFCA Senior Signature Member)
California Watercolor Association (MCWA Master Signature Member)
SELECTED PUBLICATIONS
Author of "Mixed Media Painting Workshop" North Light Publications, Fall 2013
Author of "Expressive Portraits: Creative Methods for Painting People" North Light Pub., fall 2007
Author of "Artists Pocket Guide to Better Painting" 2010
North Light Publication "Sketchbook Confidentials" 2010
Watercolor Artist/Magic 2013, 2011, 10, 2008, 06, 05, 04, 03, 02, 01
CCP Video of Jean's work available in 2010
American Artist Watercolor Summer Issue- Feature article, 2009
Wyoming Tribune Eagle, Article by Karen Cotton June 16, 2009
Feature Water Media Artist for Daniel Smith International 2009 Catalogue
Artist's Magazine 2013, 12, 11, 10, 09, 08, 07, 06, 05, 04, 03, 01, 02, 01, and 99
Canada's Who's Who 2013, 12, 11, 10, 09, 08, 07, 06, 05, 04, 03, 02 Editions
International Artist 2000, 2001, 2002, 2004
Splash 14, 10, 9, 8 – F& W Publications – 2007, 06, 04
Magazin'Art – October – 2005
The First Seventy Years – Historical Book A.S.A. – 2000
Our World in the Year 2000 – Windsor and Newton
SELECTED AWARDS
2013 – Queens Diamond Jubilee Medal for contribution to the Arts.
2011 – Jurors Award- C.W.A.-Gallery Concord – San Francisco
2010 – Walter J. Philips Award- CIPA- Mount Royal University
2010 – Finalist – The Artist's Magazine – Experimental– U.S.A.
2009 – The Charles Comfort Medal –C.S.P.W.C. – Leighton Centre, Alberta
2009 – Swinton Award- C.S.P.W.C.
2008 – The Charles Comfort Medal– C.S.P.W.C. Toronto, Ontario
2008 – Mario Cooper & Dale Meyers Medal – A.W.S. 141st International Exhibition, N.Y.
2007 – Certificate of Honor with Medal – Jiangsu Water Color Research Institute – China
2007 – Jarvis Award – C.S.P.W.C. – Toronto, ON
2007 – Presidents award – C.S.P.W.C. – Toronto, ON
2007 – M. Graham Award – N.W.W.S. International Exhibition – Seattle – WA
2006 – Daler-Rowney Award – CSPWC –Open Water International Exhibition – Toronto, ON
2006 – Merit Award – T.W.S.A. International Exhibition – Elmhurst, IL
2006 – Honorable Mention – N.W.W.S. International Exhibition – Seattle – WA
2005 – Grand Prize – Painting on the Edge International Exhibition –Vancouver, BC
2005 – Early Achievement Award – Presented for the first time by the F.C.A – Vancouver, BC
2005 – Finalist – The Artist's Magazine – Portraits – U.S.A.
2004 – Best Water Media of Show – CIPA Nation Exhibition – Masters Gallery, Calgary, AB
2004 – Finalist – The Artist's Magazine – Portraits – U.S.A.
2003 – Opus Award – Paintings on the Edge International Exhibition –Vancouver, BC
2003 – Finalist – Artist's Magazine – Portraits – U.S.A.
2003 – Silver Medal, Canadian Institute of Portrait Artists – Canada
2002 – Gold Medal, New York Adirondacks International Exhibition – U.S.A.
2002 –Honorable Mention – Artist's Magazine Competition – U.S.A.
2001 – A.W.S. – Silver Medal of Honor – U.S.A.
2001 – C.W.A. – Silver Medal – U.S.A.
2001 – Finalist – Artists Magazine – Portraits – U.S.A.
2000 – C.S.P.W.C. – S.J. Sloan Award – A Brush with History – Ontario
2000 – C.S.P.W.C. – H. K. Holbein Award – Open Watercolour Exhibition – Ontario
2000 – Watercolour West – National Watercolour Society Award U.S.A.
1999 – Honorable Mention – Artists' Magazine – Portraits – U.S.A.
1999 – The Evans Award – Vancouver, B.C.
1999 – 1st Place – Signature Show, Western Canadian Artists F.C.A. – Alberta
1998 – 4th Place – Windsor and Newton International Watercolour Competition – U.S.A
TEACHING
Contributing Editor for "The Artist's Magazine"
Chairperson for National CSPWC Water Media Symposium- University of Calgary
Red Deer College – Series 2014, 13, 12, 11, 10, 09, 08, 07, 06, 05, 04
Alberta College of Art and Design – Extension, 2000 – 2014
C.B.E. – Art Education, 1985-1999
Variety of workshops taught to groups across Canada/ U.S.A.
Education
1985 – B.Ed. from the University of Calgary (Major in Fine Arts)
1983 – B.P.E. from the University of Calgary
Other Artists that might interest you