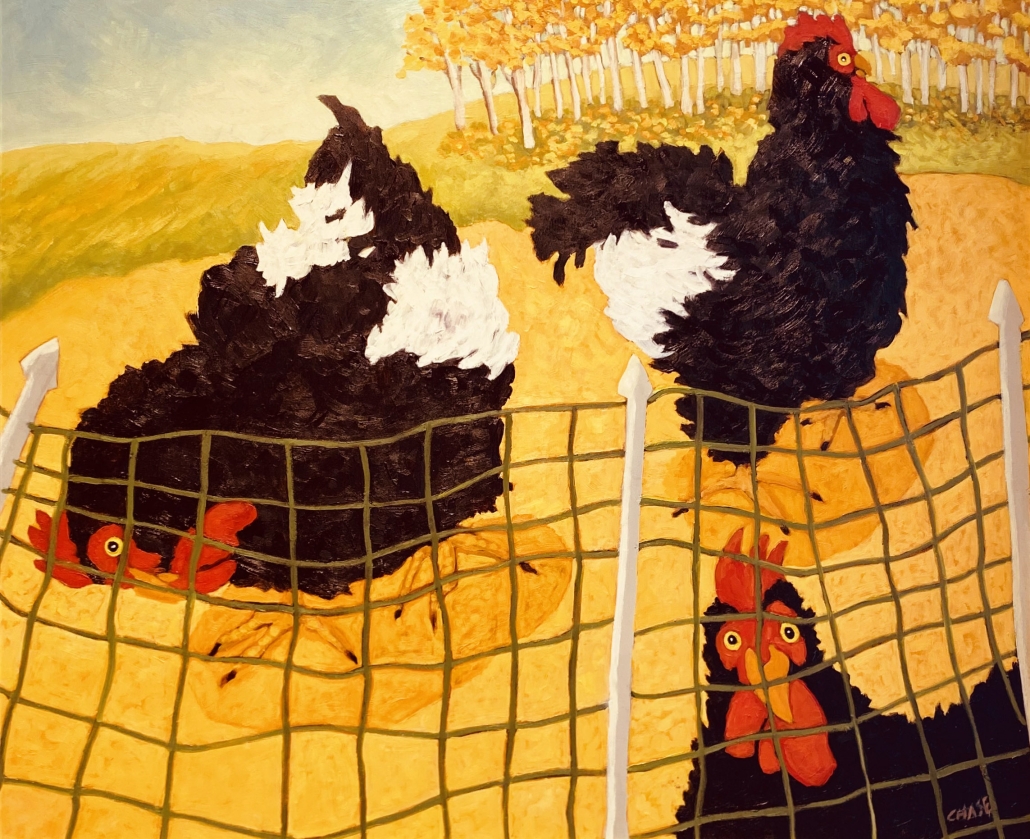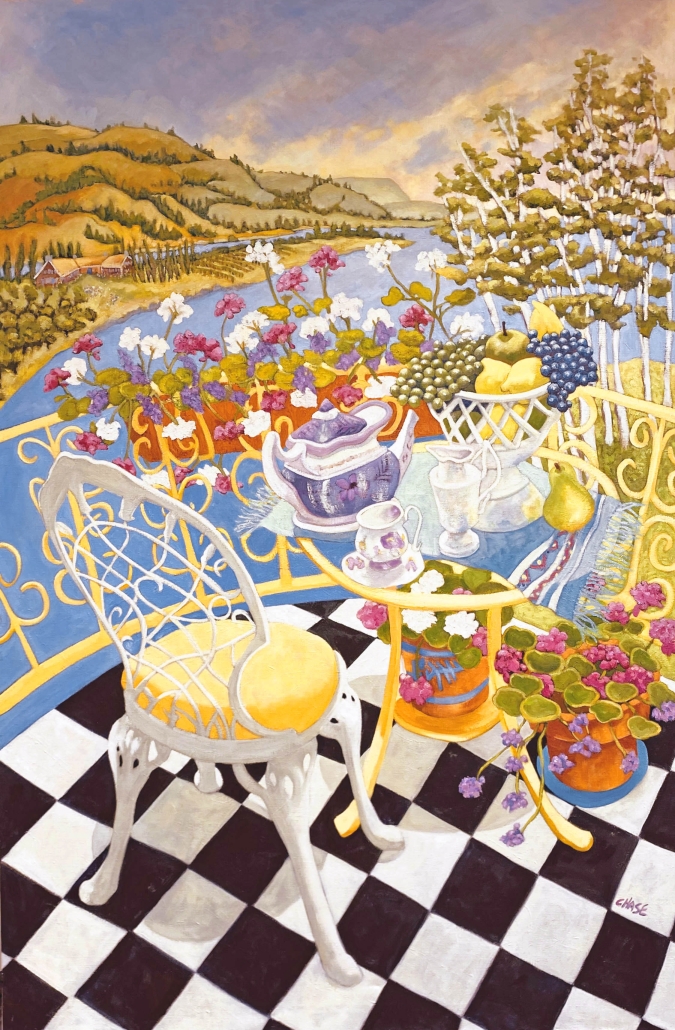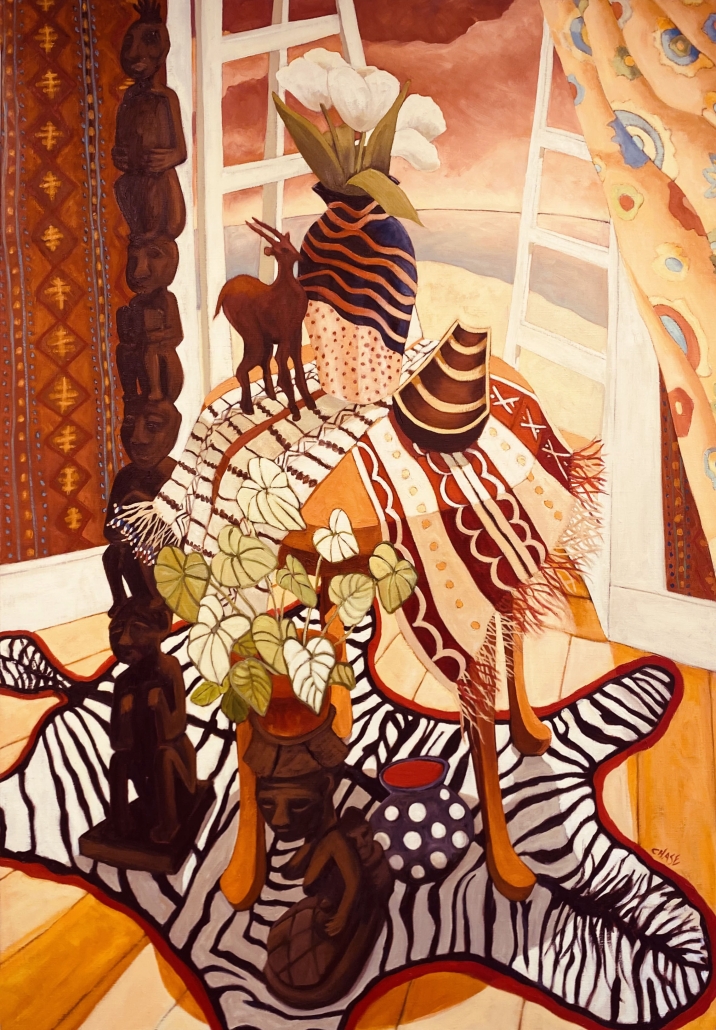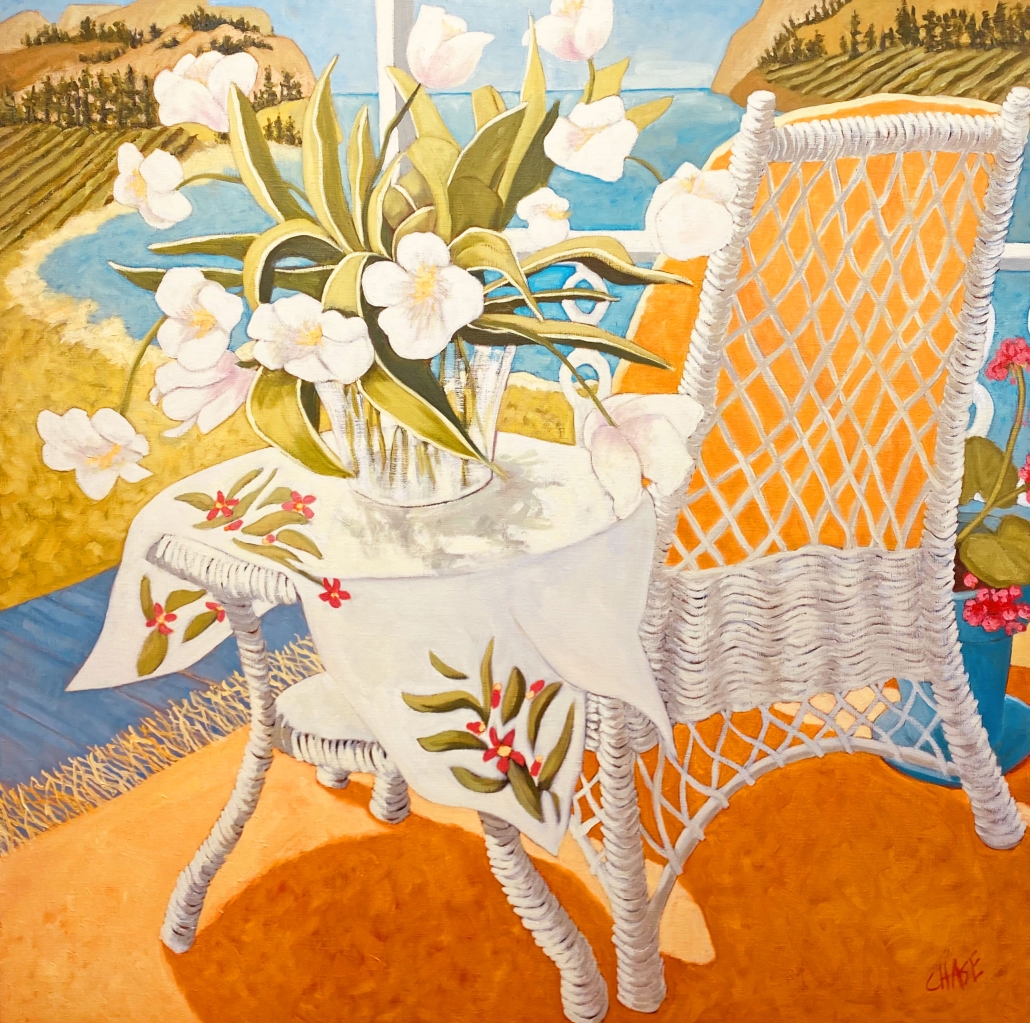 BIOGRAPHY
About Sherrill
CHASE was born in Montreal, Québec, in November 1942.
CHASE, who has painted many years in Canada, has been influenced by a wealth of personal experiences, living in such places as St. Vincent in the West Indies, Sweden, Key West Florida, and Santa Cruz California. SHERRILL CHASE studied at the Montréal Museum of Fine Arts where she was awarded the prestigious "Frothingham Scholarship" for three consecutive years, by Arthur Lismer, (one of the founders of the Group of Seven). Other prominent Canadian painters, such as Gentile Tondino, Patrick Landsley, Claude Tousignant, and Stanley Lewis, provided additional instruction.
In Sweden, CHASE was an elected member of the Royal Organization of Swedish Artists KRO.
CHASE currently calls Airdrie Alberta her home. After living several years in Kelowna and Osoyoos British Columbia, she now paints and maintains a studio in Airdrie Alberta. She lives there with her husband, Don, and their two toy dachshunds, Toby and Emily.
The CHASE PAINTINGS
Sherrills` paintings have been described as "interiors-exteriors, combined still lifes – which are anything but still". They may be set against a backdrop of flowing curtained windows or doors through which the outside can be viewed. The outside view complements and is integral to the interiors.
CHASE works with a rich palette ranging from bold primary colours to serene pastels. The viewer is invited to enter the painting and experience the whimsey and happiness portrayed within.
Ever versatile, in addition to still lifes, CHASE loves to paint pet portraits that are lifelike and capture the personality of each subject, bringing a smile to all who view her work.
CHASE has painted 29 train stations from Place Viger in Old Montréal, all the way up to the end of the Laurentian line, often braving the elements and painting en plein air. She has also done many paintings of old Montreal.
Current Designations and Associations
Sherrill Chase has membership in the following organizations:
Federation of Canadian Artists (FCA) (website: https://artists.ca/)
Swedish Artists' Association (KRO) (website: http://www.kro.se/in_english)
Galleries
CHASE has been featured in a number of galleries over the years, including:
Kastel Gallery: Westmount, Québec, Canada
Kaspar Gallery: Toronto, Ontario
Harrison Galleries: Vancouver, British Columbia and Calgary Alberta, Canada
Chase Gallery: Bloomfield, Ontario, Canada
San Franciscan Resort: Puerto Vallarta, Mexico
Gallery 421: Kelowna, British Columbia, Canada
Okanagan Art Gallery: Osoyoos, British Columbia, Canada
We are currently interested in representation for CHASE with other galleries. Please click here to contact us for more information.
Solo and Group Shows
Over the years, CHASE participated in many group shows; to mention a few locations:
Art in the County: Prince Edward County, Picton, Ontario
Gallagher's Canyon Art Society (GCAS): Kelowna, British Columbia
San Franciscan Resort: Puerto Vallarta, Mexico
Harrison Gallery: Vancouver, British Columbia
Spring Salon (1971): Stockholm, Sweden
Galerie Kastel Inc: Montréal, Québec
Kaspar Gallery: Toronto, Ontario
Key West and Boca Raton, Florida
Santa Cruz, California
Collections
As well as hanging in many private collections around the world, CHASE artwork is a part of many corporate collections, including:
Bombardier
Bronfmans
DuPont Canada
Shell Oil
Seagrams
Royal Bank
Harlequin Publications
Nokia
Skandinaviska Bank
CHASE artwork has also been featured on four covers of Reader's Digest (Canada).
Other Artists that might interest you